The 2016 Budget
Each year, after the President's State of the Union address (usually the 2nd Monday in Feb), the Office of Management and Budget releases the Administration's Budget, offering proposals on key priorities and newly announced initiatives. Bidspeed is using the President's budget data to provide an interactive, searchable, and actionable interface to facilitate long term Federal business development planning. You can read more on Medium.
There are many notable items in the 2016 budget proposal; in particular, this is the earliest a budget has been released by the Obama administration.
The President's 2016 budget proposal represents an overall 7.4% spending increase from fiscal 2015. The data has been pulled from data released by the Whitehouse to github. More information on this can be found here: www.whitehouse.gov.
Have questions about the budget data or how you can use the data to your advantage? Contact us anytime at 877.663.9043 or support@fedbidspeed.com
Very Cool. So how do I see it?
If you have a Bidspeed account (and if you don't WHY NOT?), click here. If you want to access it without an account or without logging into your account click here. (This is a good option if you want to share this with others.)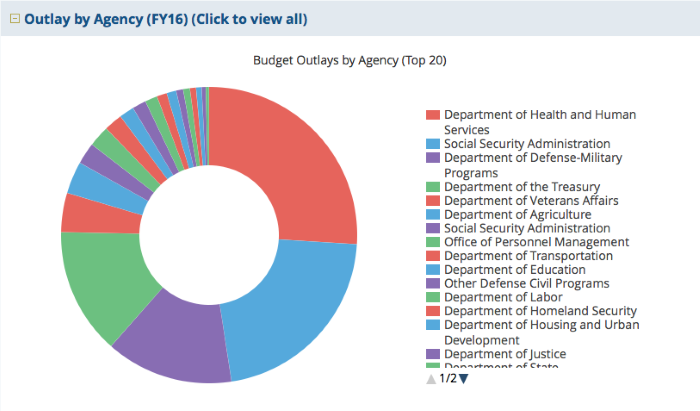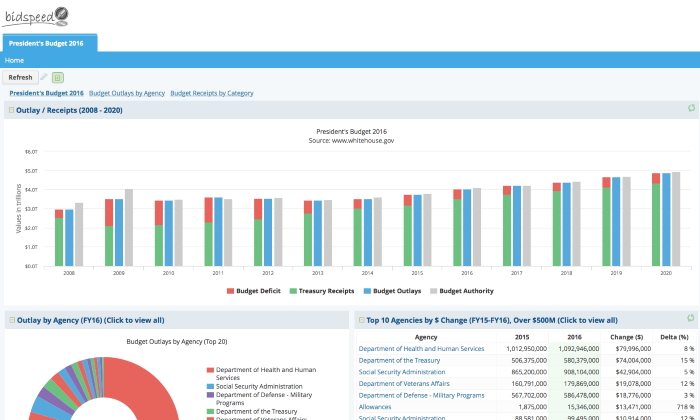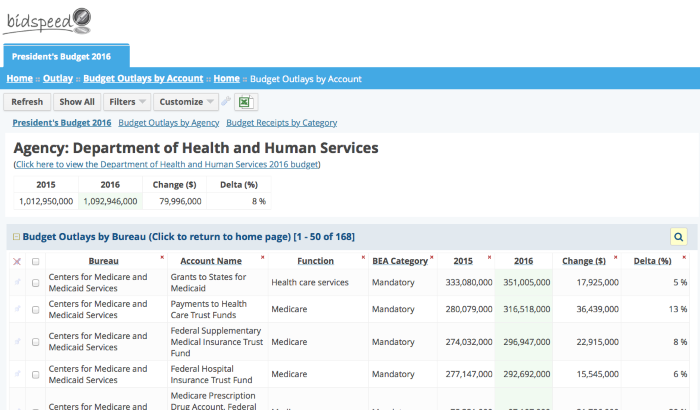 Where did this data come from?
The data is a rollup of the 600,000 budget line-items used by OMB to produce the budget. The data was released on github in a 'open and machine-readable' format. This is part of a Whitehouse memo released 18 months ago here. Bidspeed is a large fan of this memo.
Why did we do this?
Our single largest request from our users is for early guidance on the Federal marketplace. This is effectively the soonest you'll ever know about meaningful spending initiatives.
How to use this data?
First, you should note that all data is in thousands (these are very big numbers). Second, this data is only actionable if you take the time to read, and there is a LOT of potential reading to do. However, all of this is well worth it. Planning at this stage can give you a substantial advantage in strategically positioning your organization to win business.
Terminology
There are 3 main types of data:
Outlays – this is budget data that is either proposed (2016 – 2020) or actual (2015 and earlier).
Receipts – this data represents government revenue (income tax, corporate tax, and the like).
Authority – this data is the authorized budget amount (proposed for 2016 – 2020).
While the data provided by the Whitehouse includes budgets back to the 1960's, we're only showing you 2008 – 2020. The important data to look at is 2016, of course. In most cases we show you 2015, 2016, the AMOUNT of change (in thousands) and the DELTA (%) of the change.
To add the other year's data to a list just click the Customize button, then 'Additional Fields' and check the fields you want to add. (If you have a Bidspeed account this will be remembered for you.)
I want more details
Well done you. In order to see more information and extract actual opportunities you're going to need to read each agency's budget documents. In most cases there is a link at the top of the page for each agency. This typically takes you to a page with the correct PDF file of the budget.
Bidspeed is a complete Government Opportunity Management & Business Development System designed to help companies find, manage, and win government contracts. The Federal Business Development Program (FBDP) integrates our proven technology with live, practical Federal procurement expertise.
As always, if you need help with this we're happy to answer questions. You can contact us any time.