Government Opportunity Management
Selling to the government is different. That's why we built Bidspeed.
Get Started
Selling to the government is different
Especially if you are a small business. We know. You and your team are in charge of everything – business development, market research, capture management, bid / no bid, proposal management, even printing and shipping the proposal.
There is a lot to keep track of – Can we do this? Should we bid? Do we qualify? When are questions due? Who are the decision makers? Does the agency know who we are? Is the proposal done? Started? By Whom? Shipped? Arrived? What's the tracking number?
Different. Really different.
Bidspeed helps small business contractors win government contracts
Actually, we've helped thousands of small businesses win government contracts over the last 7 years.
In 2012 and 2013, Bidspeed worked with the Small Business Administration on the Teaming Pilot Program. During the 2-year grant more than 2,800 small business contractors participated in the Bidspeed powered program. We presented over 200 webinars to 8,000+ people on active, early-stage opportunities. We reviewed hundreds of responses from individual companies, and advocated directly with contracting officers on behalf of program participants.
Companies who have participated in the Bidspeed powered SBA Teaming Pilot Program have won over $750 million in Federal contract dollars during the program.
Through Bidspeed's co-sponsorship with the Small Business Administration we operated a pilot program for 8(a) contractors in the Santa Ana, CA district. The Santa Ana District office realized an average 20% increase of Government contracts awarded to their 8(a) portfolio during the first 2 years of the program.
Average dollar value of awards to participating Santa Ana 8(a) firms during the co-sponsorship: $32,951,104.
Opportunities? Yes, we've got that.

Bidspeed dynamically combines several thousand publicly available data sources to provide detailed information and intelligence to government contractors, agencies, and advocacy organizations.
Federal Data Sources include: FBO, Grants.gov, SBIR / STTR opportunities, DIBBS (DLA), United Nations, FPDS (awards), SAM, and GSA eBuy. For State, Local, and Education (SLED) data we track data from over 65,000 procurement entities.
You have enough to worry about without having to track down 65,000+ data sources. Don't worry, we've got that.
Designed with one thing in mind: Winning Government Contracts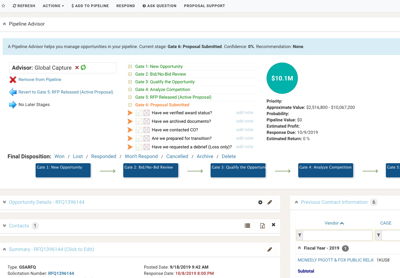 Government Pipeline Management
The Bidspeed platform provides end-to-end "best practice" processes for Government pipeline and solicitation management. This includes opportunity identification, bid/no-bid decision making and prioritization, team / partnership requests, IDIQ / MATOC, post-award task-order management, opportunity sharing, customer and partner relationship management, strategic planning and research tools, document management, and waterfall based opportunity management.
Collaboration, Innovation, Teaming
Bidspeed allows collaboration between contractors (e.g. teaming, sub-contracting), between contractors and service providers, between contractors and economic development resources, and between buyers (contracting officers, program managers) and contractors.
Know your buyer
There are lots (and lots) of ways to find opportunity data. Understanding the opportunity, the agency, and the buying history are different. Have a question about an opportunity, an incumbent, or previous related task-order awards? We've got that.
What Our Customers Are Saying
Don't just take it from us, let our customers do the talking!
Keep up your great work! We have forged four relationships as a direct result of your program. We have won one contract and presently have three very promising proposals pending.
You have helped my firm get into federal government contracting. It would have not been possible without your program.
This program can serve as a capture service for small businesses who don't have the resources … but have the capabilities.